The new Space Shuttle Exhibit and Education Building was designed to serve the community with open, multi-functional spaces for exhibits and gatherings, experiential spaces for Science, Technology, Engineering, the Arts and Math, (STEAM) , and ample, flexible room for various events.
The two-story volume of the space is amplified within the building envelope around the perimeter of the Shuttle Mock-up. A second floor mezzanine provides an elevated view as guests walk around the model, and supplemental exhibition space for future installations. The area below the mezzanine hosts utility spaces, offices, and a STEAM educational area that adapts to a Community Room with its own exterior entry access. One of the unique features of the Building is its responsive design to the Shuttle model, with raised architectural form and geometry to frame the standing Tail Section with a majestic geometry and glass façade, visible from beyond the site, that gestures toward the park and Space Center entry with dramatic illumination at night.
Activity spaces are situated to allow for engaging multiple functions, also maintaining separate group uses throughout the day, all with access to utility spaces. The restrooms are placed to provide the park with after-hours access.
Multiple entrances cue guests to various features and functions of the facility, with intuitive wayfinding to allow for self-guided exploration. A large, bi-fold door pays homage to the classic aerospace hanger, revealing a direct inside-outside connection, for community or private events.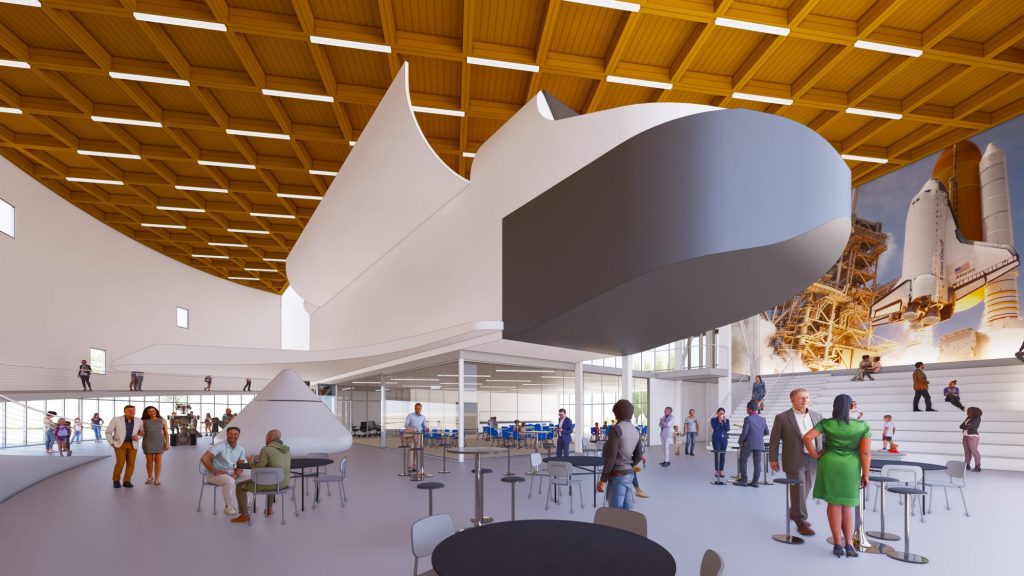 The materiality of the building references the substantial strength and detail reflected in the finish of the Mock-up display; the building's exterior metallic façade pairs with an interior of warm wood tones and exposed structural elements. The façade design harmonizes with the adjacent Space Center, while standing on it's own with a unique architectural impression.
Westgroup Designs conducted a Community Outreach Meeting for the Visioning of Belmont Pier alongside a local Council Member. The team presented the guiding principles for the project, history of the pier, comparable examples, and imagery that represented design elements. The community members were encouraged to sign-in, write on comment cards, and provided a short Questions/Answer. Once the presentation was completed Westgroup conducted an "Imagery Board Study" through 6 boards with 9 images each showing various design elements, and community members were given stickers to place on the images representing positive and negative reactions. During this time the community was invited to ask questions about the boards with the team members, and were encouraged to have any additional notes written on the comment cards to be formally reviewed.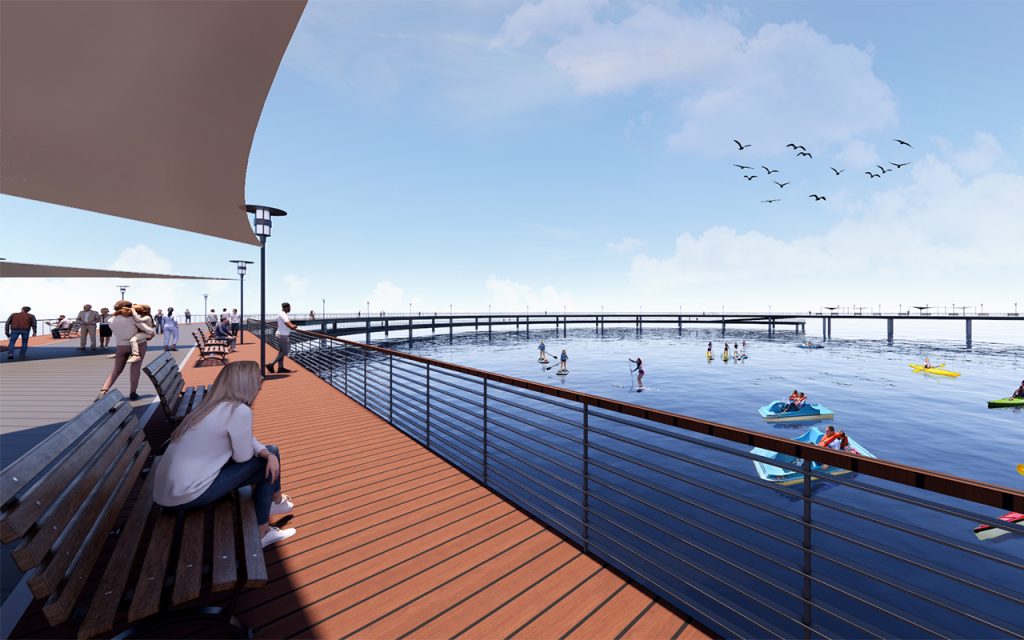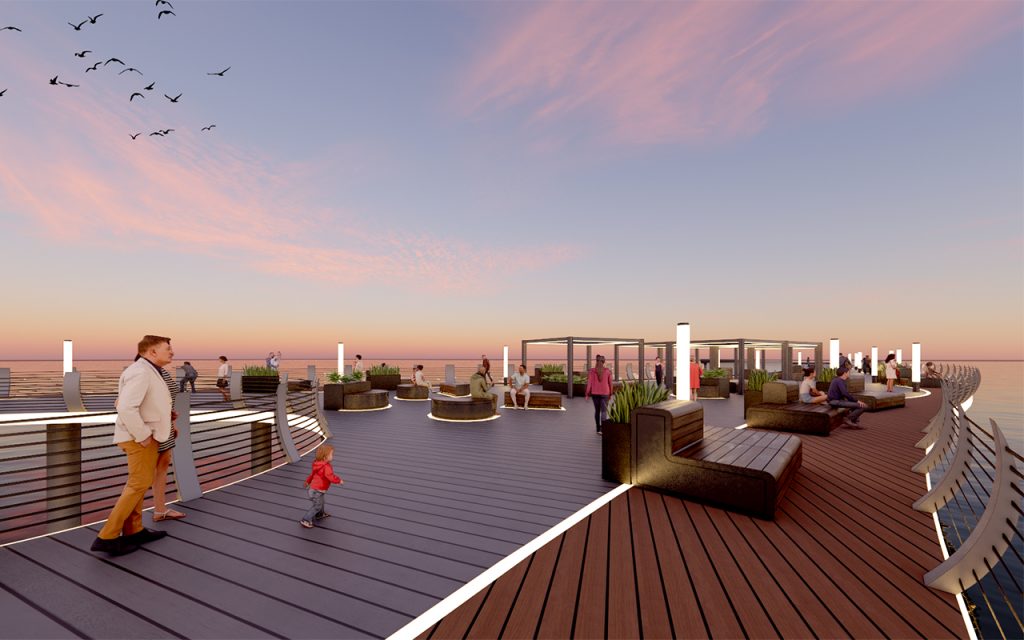 After the conclusion of the meeting, all information obtained was documented, analyzed, and summarized. The comment cards were evaluated for common topics and those topics were ranked by frequency of mentions. The Image board survey results were used to calculate which themes achieved positive or negative reactions. All the information gathered was used to inform preliminary concept alternatives that align with the inspirations positively received by the community.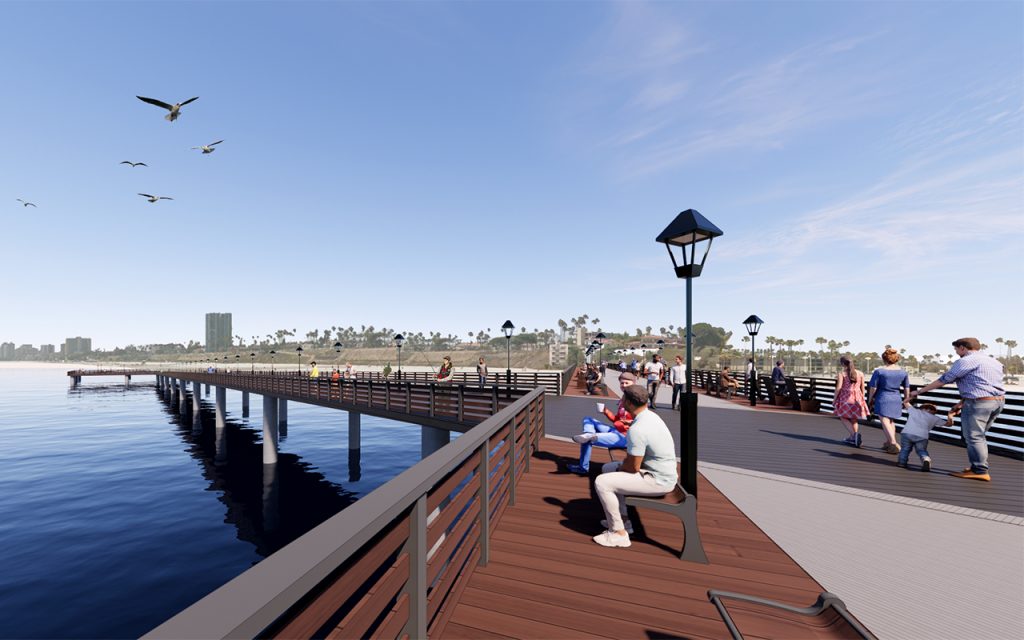 Above is a sneak peak of the first of 4 new Fire Stations, for the City of Downey, nearing completion. WD created each of these unique facilities to serve the dedicated men and women of the Downey Fire Department who strive to deliver the highest quality of service to the expanding needs of their community every day. The thoughtful design of these buildings and their environments represent a great new experience for these first-responders and support staff which will significantly increase the functionality and flexibility of their space, firefighter comfort and parity across stations; along with an enhanced civic presence and identity.
Westgroup Designs (WD) and our client, Orange County Public Works, have recently completed "Bridges at Kraemer Place" the new Year-Round Emergency Shelter and Multi-Service Center in Anaheim, a comprehensive facility dedicated to transitioning homeless individuals into permanent housing and jobs.
Of the 4 Shelter Types: Emergency, Transitional, Rapid Rehousing and Permanent Supportive, this vital stepping stone is essential as the county estimates that about 70 percent of the emergency shelter beds have been reserved for families or single and pregnant women.
The goals of Bridges at Kraemer Place, and its programs, include support to help reduce the number of persons who experience homelessness in our community and increase access to housing opportunities for chronically homeless individuals.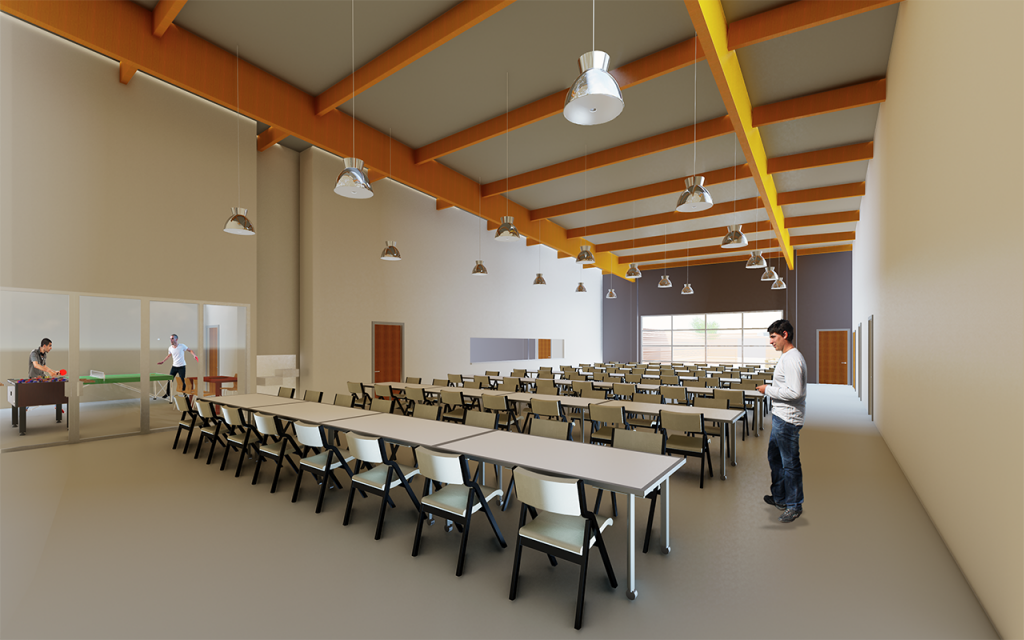 This facility houses 200, with an emphasis on single adults, and will be staffed 7 days a week, 24 hours a day, and will be managed by Mercy House, a leading nonprofit organization that provides services for those experiencing homelessness. Unlike other emergency shelters, this one will house men and women for between 60-90 days, with a reservation. The Shelter's primary focus is assisting program participants with creating a housing plan, making connections to housing resources and ending their homelessness as soon as possible.
WD planned and designed the existing industrial concrete tilt-up structure and it's 1.87 acre site into a 24,000 square foot multi-functional facility, which features ample locker, shower and restroom facilities; an on-site comprehensive medical clinic with nurse's station, lab, pharmacy and exam rooms; a commercial kitchen; separate men's and women's sleeping quarters, a dining hall, laundry room, computer lab, storage, administration suite, and flexible, multi-purpose rooms for daytime program activities, including supportive services, employment and job placement referrals and Life Skills classes & workshops, as well as indoor and outdoor recreation activities.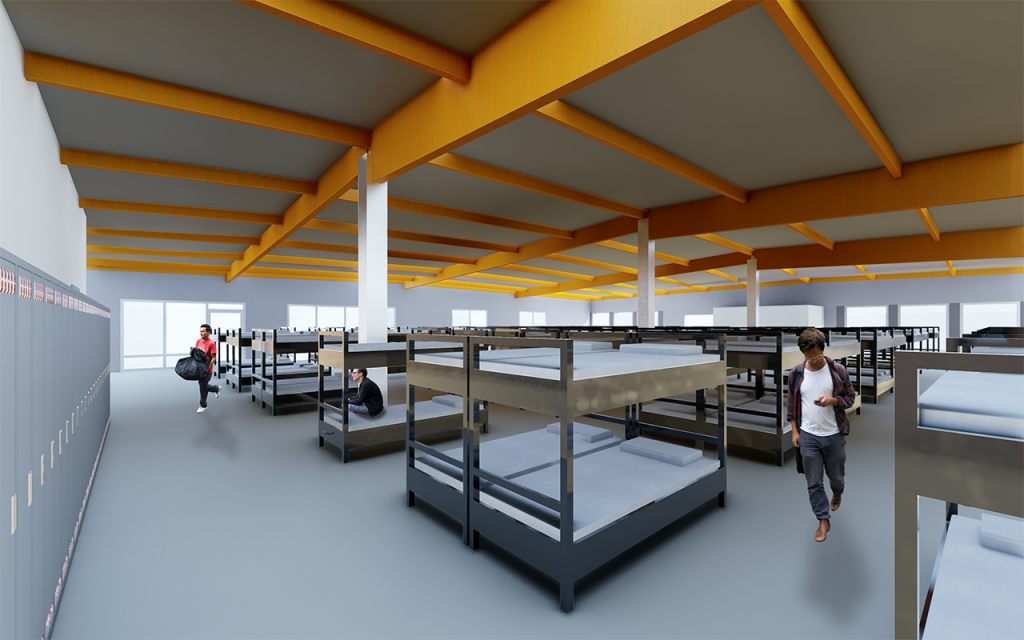 Orange County Assemblywoman, Sharon Quirk-Silva [District #65], secured an additional $5 Million from the 2018-2019 State Budget's Building Homes and Jobs Trust Fund to expand support services at Bridges at Kraemer Place observing that this is a "sensible step in the right direction, with its support from local government, law enforcement and the community". She added that "it is not the time to turn our backs on some of the most vulnerable members of our community. Supporting a proven successful shelter, already in operation, is the logical first approach to confront the complicated issue of homelessness....and will "ease the burden put on our neighborhood streets in times of crisis".
Westgroup Designs continues our commitment to Social Responsibility, working to enhance our Community and the people it serves, every day. Learn more about WD's local community support here.