At the height of the digital age, our educational institutions are eager to transform the way students learn and collaborate. Westgroup Designs is fervently committed to pushing the boundaries of educational space design, preparing our future generations for a world where the importance of mobility, flexibility and technology allow for greater growth and innovation. Harnessing $1.5M CTE Grant Funding, we pioneered an ambitious project for Santa Ana Unified School District's Saddleback High School, setting the stage for the future of media labs in K-12 schools.
The Saddleback High School Digital Media Lab is a model of forward-thinking maker space with an industrial aesthetic, transforming two existing classrooms into state-of-the-art production and collaboration spaces. These revamped spaces are acutely attuned to the needs of today's tech-savvy, mobile-oriented students, enabling them to delve into the nuances of media production technologies. Comprised of two Broadcast Studios, a Podcasting Studio, six Edit Stream Suites, two Stage Suites, and a tech equipment workroom, these facilities echo the real-world media production industry: offering students a hands-on learning experience while honing their skills for the future.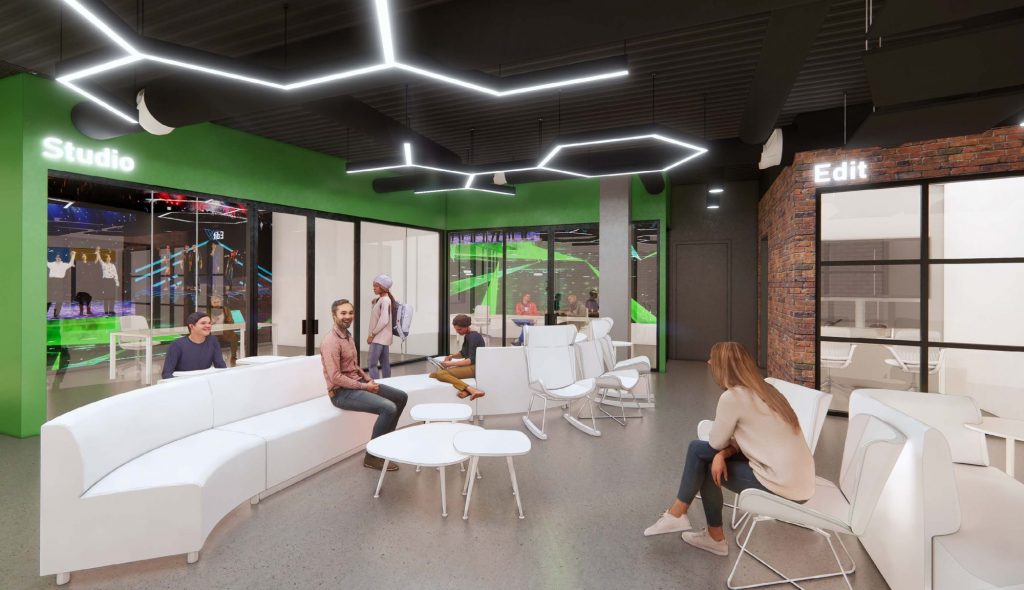 In addition to these specialized spaces, the project introduced a 2,600 square foot Collaboration Studio, equipped with flexible furnishings and movable partitions, that can accommodate multiple class configurations, fostering a conducive environment for idea exchange and creative thinking.
The Saddleback High School Digital Media Lab's success represents our broader vision for K-12 education design, where media labs will no longer be an auxiliary aspect of learning but a central, integrated part of the curriculum. We remain committed to the future of education, contributing to the creation of these inspiring spaces for learning and innovation and to be part of this transformative journey in educational environments.
An interview with Dr. Pulver, the Superintendent of the Los Alamitos Unified School District, to find out why his district chose Westgroup Designs to build their new 86,528 sf STEM Building.

Westgroup Designs (WD) received a Merit Award for its design of INDA ACADEMY, at the American Institute of Architects (AIA) Orange County Chapter Design Awards Gala, presented virtually on October 1st.
The project is a 25,000 square foot, Pre-K to 6 educational facility for the Santa Ana Unified School District (SAUSD), focused on the goal of creating an inclusive 21st century neighborhood school with an innovative DREAMS curriculum (Design, Research, Engineering, Arts, Math and Science).
Citing the project's sustainable concept for Adaptive Reuse and design quality, the AIA Jurors unanimously celebrated this project:
The design is well-considered, thoughtful, and nicely executed, including a playful slide that descends along the side of the building. Another great embodied carbon story that encourages the reuse of existing structures."
The design team delivered a unique solution that would facilitate progressive hands-on learning for 225 students a year, and understand how this solution would enhance the community, leveraging the local climate to support indoor/outdoor educational activities with glazed retractable walls and highly flexible interior spaces. As part of the resilient design concept, WD focused on creating a healthier building, updating the design of the building skin, adding operable windows and a new ventilation system which exceeds energy requirements by 30% and provides 100% outside air for healthier indoor air quality.
Our responsibility as architects is to both dream and to build responsibly, Westgroup Designs Principal, Dr. Shazad Ghanbari said. " This will be a transformational environment; an example for our next generation of emerging technology and learning experiences."
Nearing completion, the auditorium Westgroup Designs created for the Garden Grove High School La Quinta campus is a multi-functional venue for daily use by teachers, students and the community. The auditorium is an important space in any high school fortunate to have one. It is used for all types of engagement from plays, concert performances and ceremonies to informational school assemblies. These varied events place a range of demands on the room. For every use, it is essential that everyone in the room hear everything presented, which puts a great deal of focus on appropriate acoustics. With the revamping and restricting of so many classrooms to move away from traditional rows of desks, it becomes clear that tapping into the auditorium is a great opportunity to let learning take center stage! Students can act out history lessons and world events; teachers can engage groups to read aloud to classmates, guest speakers can have a captive audience to inspire the next generation. We're excited just thinking of all of the creativity to be generated in this multi-functional environment!
The auditorium building is slated to be complete at the end of February, 2020.
It is the most wonderful time of the year! Each year, Westgroup Designs is delighted to continue participating in programs which benefit and support our community's at-risk youth in Orange County. Through Share Our Selves and WeCare, both social services organizations that focus on outreach to those in need, we delivered holiday cheer to children and their families!
WD participated in the annual We Care event, sponsored by Herman Miller, benefiting the Boys & Girls Club of Tustin. We Care allows children to let their creativity shine by making holiday gifts for their family, teachers and friends at a variety of craft stations. For many of the children, this is the only way they can provide gifts to their loved ones. This year we created Edible Snowmen; a clever and creative craft that includes a warm pair of gloves the gift recipient can wear all season long!
We are also honored to continue participating in the Share Our Selves Adopt-A-Family program, celebrating its 50th year supporting many struggling families by providing gifts and food for the holidays. This year, more than 1,440 families and 4500 children, recommended by Costa Mesa and Santa Ana organizations and schools, would not normally receive gifts or have enough food for the holidays. Through the generous donations of WD staff and our firm, another family will experience joy, comfort and the relief of knowing that so many care, and together we all help to transform our community.
Westgroup Designs continues to secure DSA approval, bidding and construction as the campus project advances. These actions have resulted in a total of $6 Million in matching funds from the State of California reserved for the new construction of the Career Technical Education Facility on the Fillmore High School campus.
Westgroup Design's architectural solution will bring two new CTE buildings to the campus that will support Transportation (i.e. automotive) and Agriscience/Agricultural Mechanics pathways. The facilities will give students hands-on experience with state-of-the-art automotive diagnostics and repair equipment, greenhouse horticulture, and wood, metal and CNC fabrication.
"It'll be a breath of fresh air onto the campus and into the community," said Superintendent Dr. Adrian Palazuelos, and will allow the District "…the ability to realize the dream of creating the facility that our students deserve."
As part of Fillmore USD's facilities improvement efforts at Fillmore High School, Westgroup Designs is overhauling the campus electrical infrastructure to support future projects, such as a new Gymnasium, Performing Arts Center, and Administration, as well as modernization of existing classrooms.
In addition to work with Fillmore USD, Westgroup Designs is currently finishing construction of two High School campuses for Garden Grove USD that was made possible by $40 million of State AB 300 seismic replacement funds WD's fast-track design solution secured. The construction is more than 85% complete, with the work phased to allow the campus to remain open without the need of interim housing.
See the District's full press release here.