The new Space Shuttle Exhibit and Education Building was designed to serve the community with open, multi-functional spaces for exhibits and gatherings, experiential spaces for Science, Technology, Engineering, the Arts and Math, (STEAM) , and ample, flexible room for various events.
The two-story volume of the space is amplified within the building envelope around the perimeter of the Shuttle Mock-up. A second floor mezzanine provides an elevated view as guests walk around the model, and supplemental exhibition space for future installations. The area below the mezzanine hosts utility spaces, offices, and a STEAM educational area that adapts to a Community Room with its own exterior entry access. One of the unique features of the Building is its responsive design to the Shuttle model, with raised architectural form and geometry to frame the standing Tail Section with a majestic geometry and glass façade, visible from beyond the site, that gestures toward the park and Space Center entry with dramatic illumination at night.
Activity spaces are situated to allow for engaging multiple functions, also maintaining separate group uses throughout the day, all with access to utility spaces. The restrooms are placed to provide the park with after-hours access.
Multiple entrances cue guests to various features and functions of the facility, with intuitive wayfinding to allow for self-guided exploration. A large, bi-fold door pays homage to the classic aerospace hanger, revealing a direct inside-outside connection, for community or private events.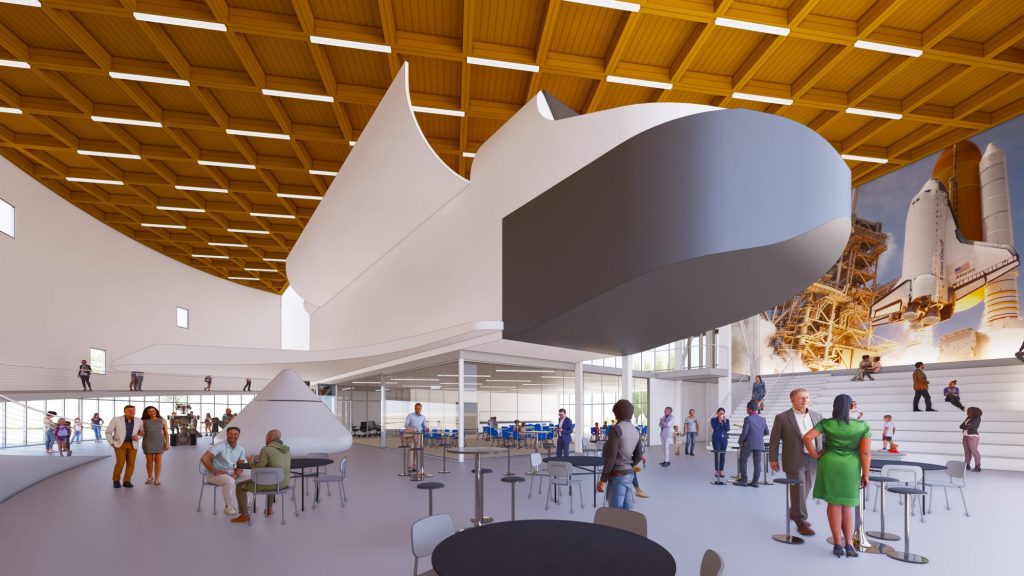 The materiality of the building references the substantial strength and detail reflected in the finish of the Mock-up display; the building's exterior metallic façade pairs with an interior of warm wood tones and exposed structural elements. The façade design harmonizes with the adjacent Space Center, while standing on it's own with a unique architectural impression.