Happy International Women's Day! Westgroup Designs is proud to be a woman-owned business.
In honor of Giving Tuesday, Westgroup Designs launched a virtual food drive running from 11/28/22-12/2/22. The goal was to raise enough money to provide 1200 meals to our food insecure neighbors in Orange County. There are approximately 18,030 people that are food insecure in Orange County. 4,420 children under 18 are food insecure in Orange County. 3,216 children receiving free/reduced school meals in Orange County.
The food drive went through Second Harvest Food Bank, a non-profit with the mission to provide dignified, equitable and consistent access to nutritious food, creating a foundation for community health. By the end of the week-long fundraiser, WD had achieved 193% of our goal and secured 2,320 meals for the community. We thank our employees and community for helping us surpass our ambitious goal.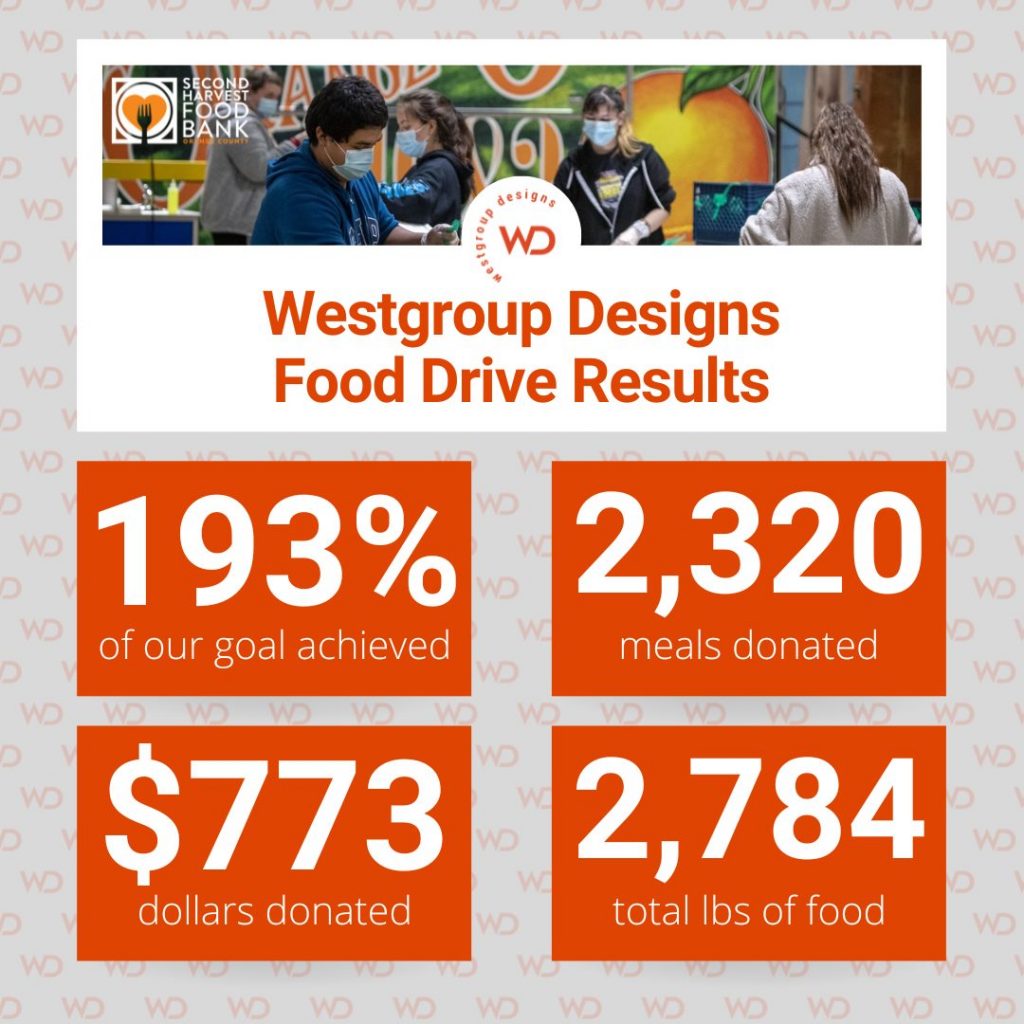 Happy Halloween from Westgroup Designs. This year we present our annual Halloween video, ghostbusters themed!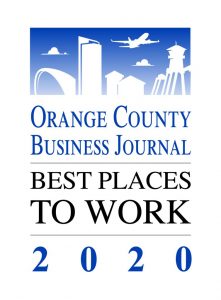 For the third time, Westgroup Designs is honored to be named as one of the top Best Places to Work in 2020 by the Orange County Business Journal.
Placing in the top 3 on the list, Westgroup Designs was selected for its quality of Leadership and Organization, Company Culture and Overall employee Trust and Satisfaction. Westgroup Designs dedicates this award to each and every one of its resourceful, collaborative employees who provides the value offered to our clients and project partners every day, who embody the firm's values with compassion and integrity, and who approach every day with a great attitude, team spirit, passion for design and enthusiasm for discovery.
This county-wide survey and awards program was designed to identify, recognize and honor the best places of employment in Orange County, California, benefiting the county's economy, its workforce and businesses. The ranking of the winning organizations was issued in a special section of the Orange County Business Journal's October 26th issue.
About Westgroup Designs Westgroup Designs (WD) is a comprehensive Architecture, Planning, Interior Design and Branding firm headquartered in Irvine, California, with both National and International clients and projects. Founded in 1989, WD is a woman-owned business that values excellence; certain that the best results come from a strong partnership with clients, and high-quality work is a culmination of attitude & approach, enthusiasm for discovery and passion for design. WD leverages design as a tool to help clients achieve organizational goals and strengthen business outcomes. The firm's expertise includes projects in Education, Commercial, Civic, Retail, Health & Wellness and Lifestyle sectors, from tenant improvement and renovation to new multi-story buildings and campuses.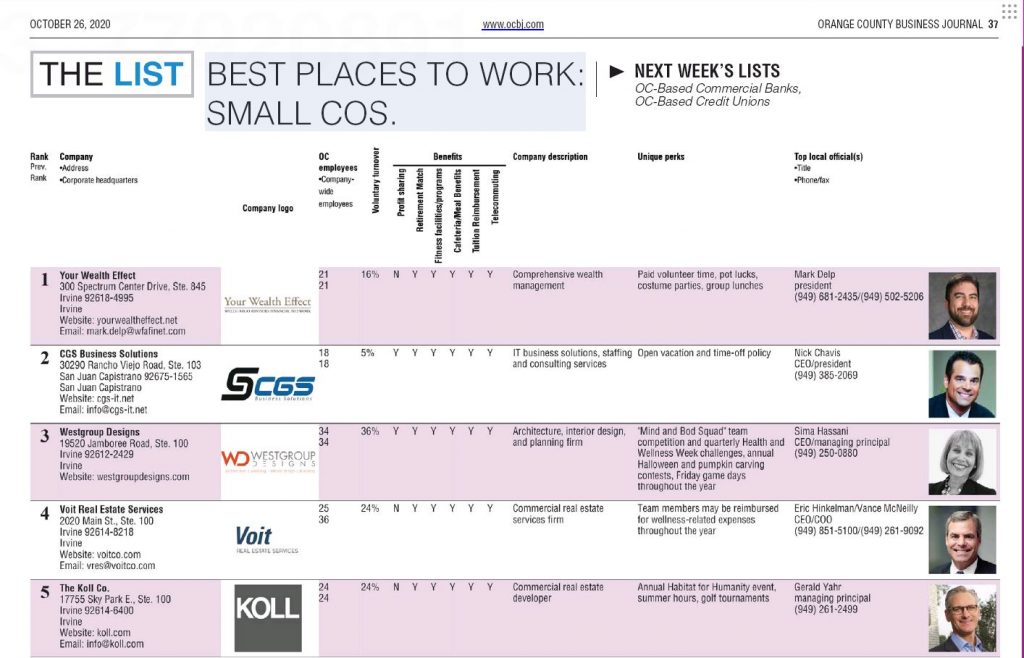 Channeling Our Inner Powers at the Annual Bocce Ball Tournament, WD Team 'Stranger Throws' participates in raising over $10,000 for Local Charities.
Westgroup Designs had a totally rad time invoking 80's summer vibes for the Annual Bocce Ball Charity Tournament at the Back Bay in Newport Beach on the afternoon of Thursday August 8th. Our team, Stranger Throws, was inspired by Netflix's hit show, Stranger Things. Stranger Things' third season tagline is "One Summer Can Change Everything". Although the TV series is referring to a seemingly unbeatable sci-fi monster, we were inspired by the tagline to help make a positive difference for our community! The awesome Bocce Ball event was hosted by People Space and Haworth for the 10th year in a row, bringing together competing teams from architecture/design, construction and real estate companies in Orange County with manufacturer's sponsorships, to raise over $10,000 for local charities.
One summer can truly change everything!

We Are WD.
We Design. We innovate every day to ensure that your vision drives everything that we do. We leverage our design expertise as a tool to help achieve organizational goals and strengthen business outcomes.
We Deliver. Most of the clients we started with are still with us, and 89% of our projects come from repeat clients. We know that the optimal solution begins with selecting the right team, who have the expertise, experience and vision, and combine this with the tools, technology, values and integrity to bring it all together.
We Drive Change. For 30 years, our success, locally and internationally, has been the result of more than just the quality of our work, it has been the culmination of attitude, strategic approach and the way we treat our clients. As passionate, committed stewards of the built environment, we practice what we preach and have been named one of the Best Places to Work in Orange County by the OCBJ for a second time as we share this dedication to excellence with our clients and project partners.