Spring sports are in full throttle and Trabuco Hills High School athletes and fans are pumped for the newly enhanced experience that WD designed at their stadium.
Trabuco Hills High School stadium officially re-opened over the winter with WD's design of a new track and field and upgraded adjacent facilities. With Trabuco Hills High School Athletics boasting the #1 Boys Track Team in Orange County and the football, lacrosse and track teams competing with top-notch OC talent, a new track and field has been a long time coming for athletes, coaches and fans alike.
The existing Trabuco Hills High School stadium previously housed a 10-year-old, deteriorating track and field with adjacent facilities over twenty years old. Saddleback Valley USD engaged Westgroup Designs to pump up the athlete and fan experience at the stadium. WD's design of the new improvements include replacement of the existing synthetic turf with a more durable synthetic turf system; replacement of the existing asphalt base and track surface with a new urethane track and asphalt; and accessibility upgrades to the adjacent stadium facilities, including overall path of travel, drinking fountains, restrooms, bleacher seating, and assisted listening devices.
Trabuco Hills High School's new track and field and stadium upgrades are the beginning of a series of improvements that WD is designing and delivering at Saddleback Valley USD's high school campuses, including Laguna Hills, Mission Viejo and Trabuco Hills High Schools.
Coastline Community College is deeply committed to the success of its students and the faculty that support them. Wanting to complement their student-centered approach to education, Coastline is engaging WD's expertise in campus planning to identify opportunities to provide an enhanced and integrated campus experience at their four OC Centers.
On April 5, the Coast Community College District Board of Trustees confirmed the selection of Westgroup Designs (WD) to provide planning and programming services to Coastline Community College, one of three colleges in the Coast Community College District. Coastline is a unique institution, serving both local and remote students through their four Orange County Centers and a robust distance-learning program.
WD will begin by creating a more collaborative workplace environment and a new 'one-stop' student services experience at Coastline's College Center. At Coastline's three instructional campuses, WD will be working with stakeholders to provide integrated and technologically-enabled administrative and student support services for an enhanced educational experience, improved community engagement, and a cohesive branded-environment that reflects Coastline's values.
For many of our designers, creating experiences in Next Gen and STEM learning resonates very close to home. We have a passion for thinking outside of the box- whether it's through the community, at home, or for the holidays; our designers share their favorite approaches to engaging their children in STEM activities after hours and outside of the classroom.
STEM IT UP IN YOUR COMMUNITY
Watch out SpaceX, There's a New Inventor in Town.
Architectural Design Director, Kenneth Ong, AIA and his 6-year-old son, Ryan, engaged in a fun STEM activity at the Astounding Inventions 2017 event. Ryan had great fun building and launching several iterations to improve the design and durability of his rocket.
STEM IT UP AT HOME
Who Needs an iPad When You Can Build Your Own Computer?
Director of Strategy, Renee Rose Andrade and her husband help their 6-year-old daughter, Aria, build her own Kano computer. Aria has an enduring interest in computer technology (aka iPads and iPhones), and now she has a blast learning to code games, art, music and even apps on her Kano computer.
STEM IT UP FOR THE HOLIDAYS
Put the Elf Back on the Shelf. Leprechaun Traps Spark Creativity That's as Good as Gold.
Senior Interior Designer, Vickie Nicola, CID and her 5-year-old-son, Gavin, create traps to capture mischievous Leprechauns in the weeks leading up to St. Patrick's Day. Gavin builds the Leprechaun traps out of blocks, legos, and toys and then puts a coin in the center. The goal being to lure in the Leprechaun and have the structure collapse and trap him. It makes for exciting mornings when the family dog or cat knocks the trap down the night before, because Gavin is convinced his traps are working!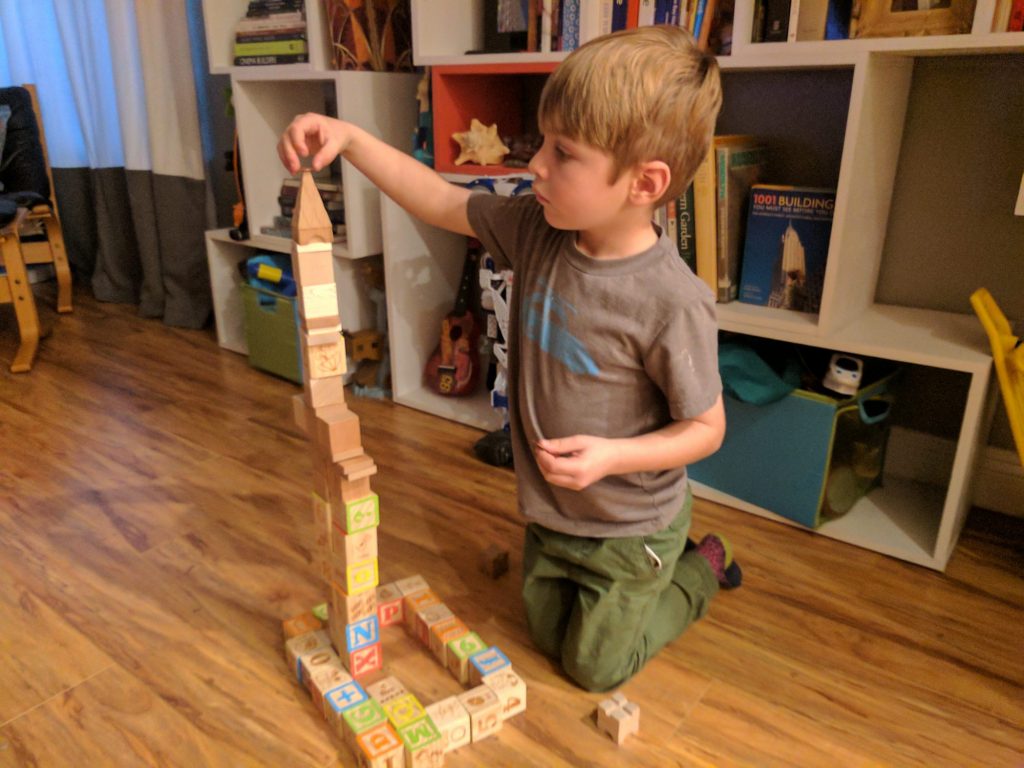 IPSF's Second Annual STEAM Carnival attracted 3,000 students and parents who enjoyed an afternoon of robotics, human foosball, painting, Minecraft programming, a 3D Virtual puzzle, choir performances and scavenger hunting.
Learning is fundamentally social, and sometimes the best way to inspire learning is through play. On Saturday, April 30th, Westgroup Designs (WD), along with 48 other companies, participated in Irvine Public Schools Foundation (IPSF)'s Second Annual STEAM Carnival. This year's event attracted over 3,000 attendees, featuring hands-on games and activities to local students related to Science, Technology, Engineering, Arts and Mathematics.
WD challenged students to solve their activity, Cubies, a 3D virtual puzzle. Children in kindergarten through 8th grade had to recreate a stack of 3D blocks using 2D orthographic drawings [top view, front view, side view.] Depending on the age and skill level of the student, the puzzle ranged from an easy composition of 4 blocks to several blocks of varying shapes. After a brief tutorial of 2D orthographic drawings and how they relate to the 3D virtual blocks, the students used the touchscreen display to rearrange the blocks in order to solve the puzzle.
Prizes included keychain Rubix cubes and a LEGO Architecture set of the New York skyline.
Funds raised from the IPSF STEAM Carnival go towards schools in the Irvine Unified School District and support district-wide programs such as Classroom Support, Fine Arts, Music, and Science, grants to teachers in the classroom, Summer Enrichment program and more.
To learn more about Irvine Public Schools Foundation, click here.