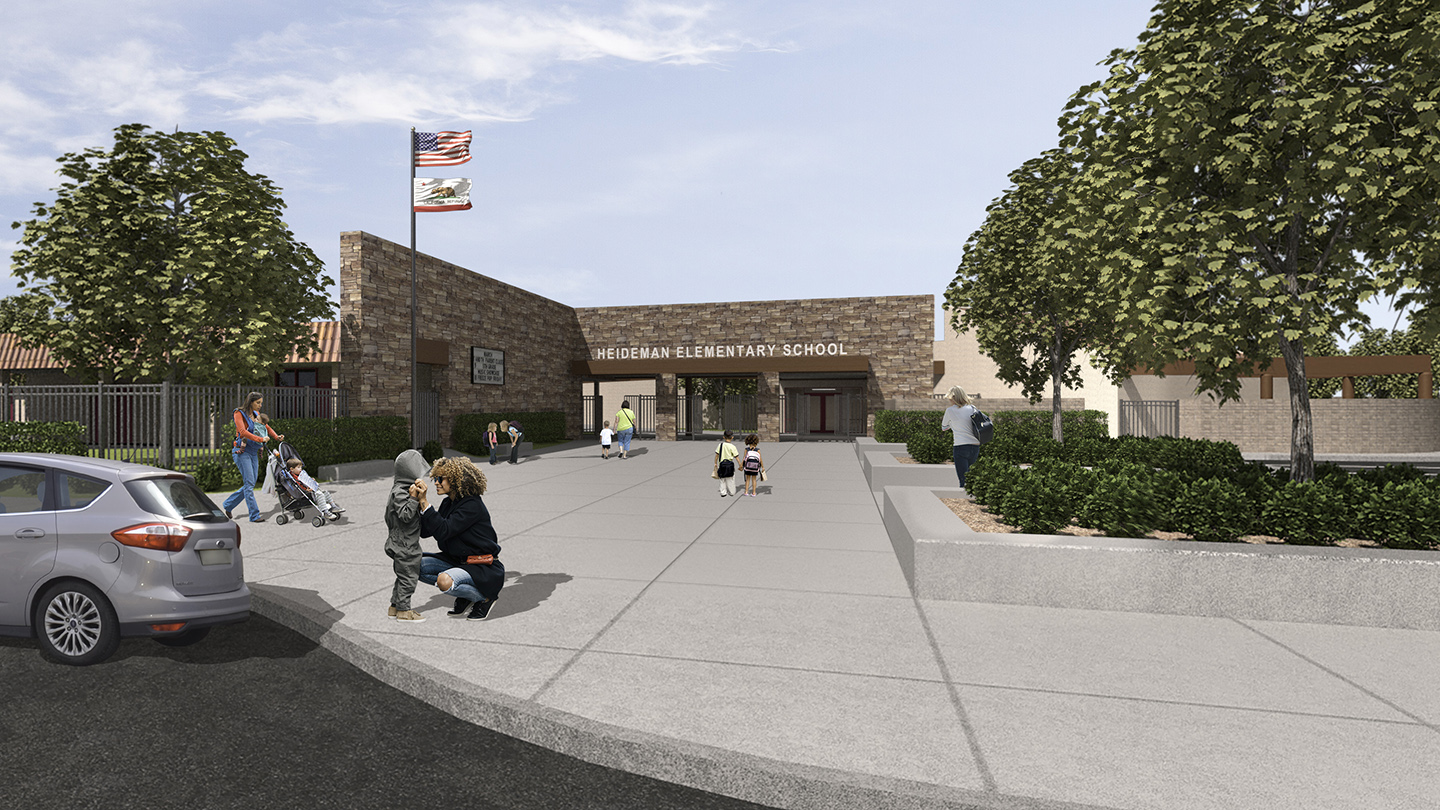 Better Together: Designing Needed Improvements while Creating a New Front Door and Sense-of-Pride for Students, Teachers and Parents at Heideman Elementary School
Westgroup Designs collaborates with Tustin Unified School District and Heideman Elementary School to strengthen the school's learning community by encouraging social interaction and enhancing the sense-of-pride on campus.
Tustin Unified School District (TUSD) has a legacy of excellence in education and the District holds its facilities to the same high standards. Originally built in 1969 and last renovated in 1991, Robert P. Heideman Elementary School is ready for a modernization like many other aging school facilities in the District. As part of TUSD's larger goal of increasing parity amongst all schools in the District, Westgroup Designs (WD) was brought in to design much-needed upgrades on campus. The vision for the 21,000 sf of improvements center around creating maintenance-friendly landscaping and seating areas, improving drop-off and pick-up circulation, and presenting a new face to the community while maintaining campus security.
Westgroup Designs, in collaboration with District and Heideman Elementary School stakeholders through our iterative design process, are finalizing the conceptual design for a new entry façade and plaza that will create a greater civic presence in the community and a more welcoming and engaging public space for students, teachers and parents to meet and socialize in.
Currently Heideman Elementary School's entrance is dominated by awkward geometries, difficult-to-maintain landscaping and industrial fencing. WD introduced a material and landscape palette that purposely complements the look and feel of newer school sites in the District. The robust, industrial-grade security fencing is being replaced with new fencing appropriately-scaled for the community and students while a new manufactured stone entry façade presents an improved civic image while maintaining access control. The school's existing vehicular student drop-off is intensely congested with only a partial lane truncated by diagonal parking spaces. WD reconfigured the parking to allow for a contiguous, longer drop-off lane to streamline vehicular circulation and improve the safety of students that walk or ride bikes to school.
Westgroup Designs' resulting design strengthens the Heideman Elementary School's learning community by encouraging social interaction and enhancing the sense-of-pride on campus, all while maintaining campus security and supporting the District's goal of increasing parity amongst its schools. Westgroup Designs and Tustin Unified School District are moving forward with design development to maintain a schedule for having construction complete in time for the 2017-2018 school year.
Take a 360 tour of the Existing Site.
Take a 360 tour of the New Design.
"[Westgroup Designs] introduced TUSD to the term 'Campus Transformation' in the design work they've provided at a few of our aging sites. I have found that the entire team at Westgroup is of the highest professional and ethical caliber and are always on the leading edge of providing quality and timely services."
David Miranda
Sr. Director of Maintenance, Operations & Facilities Tustin Unified School District