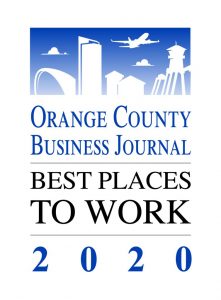 For the third time, Westgroup Designs is honored to be named as one of the top Best Places to Work in 2020 by the Orange County Business Journal.
Placing in the top 3 on the list, Westgroup Designs was selected for its quality of Leadership and Organization, Company Culture and Overall employee Trust and Satisfaction. Westgroup Designs dedicates this award to each and every one of its resourceful, collaborative employees who provides the value offered to our clients and project partners every day, who embody the firm's values with compassion and integrity, and who approach every day with a great attitude, team spirit, passion for design and enthusiasm for discovery.
This county-wide survey and awards program was designed to identify, recognize and honor the best places of employment in Orange County, California, benefiting the county's economy, its workforce and businesses. The ranking of the winning organizations was issued in a special section of the Orange County Business Journal's October 26th issue.
About Westgroup Designs Westgroup Designs (WD) is a comprehensive Architecture, Planning, Interior Design and Branding firm headquartered in Irvine, California, with both National and International clients and projects. Founded in 1989, WD is a woman-owned business that values excellence; certain that the best results come from a strong partnership with clients, and high-quality work is a culmination of attitude & approach, enthusiasm for discovery and passion for design. WD leverages design as a tool to help clients achieve organizational goals and strengthen business outcomes. The firm's expertise includes projects in Education, Commercial, Civic, Retail, Health & Wellness and Lifestyle sectors, from tenant improvement and renovation to new multi-story buildings and campuses.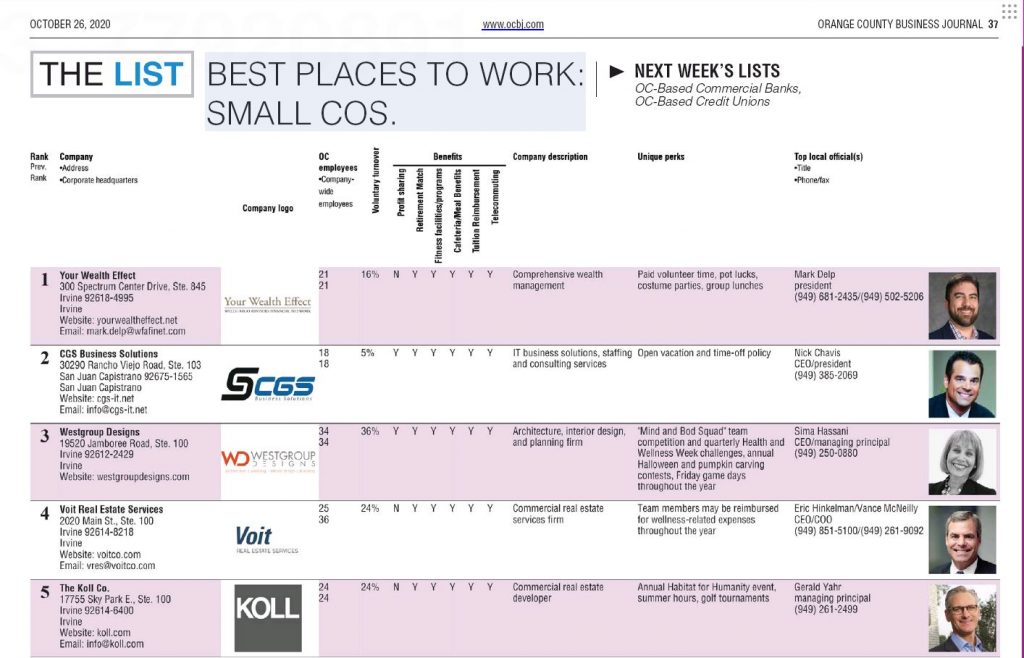 Westgroup Designs celebrates the success of their client, Alignment Healthcare, being touted as the 'Fastest Growing OC-based Private Company' on the Orange County Business Journal's 2019 List.
The 110,000 sf headquarters for this National organization was designed in 3 phases on 5 floors in Orange, CA.  Previously located in several smaller offices, this new design brings the 400-person staff  together under one roof, providing a unique work environment for both their healthcare and administrative professionals. The dynamic, progressive office space features diverse work and amenity zones planned for private, open, team, social and training functions, bolstered by sophisticated digital technology. Promoting knowledge sharing and a collaborative work ethic, many spaces also have dual functions for creative flexibility. This planning and design concept continues to work well, allowing this "patient-centric" organization to grow as they do their best work on behalf of the communities they serve.
High Fives
Westgroup Designs is recognized as one of the TOP 5 Best Places to Work in Orange County!
WD is proud to announce that our company is listed in the Top 5 Best Places to Work from the OC Business Journal. What makes us stand out? Team spirit, happy employees, and projects we are passionate about! Here at Westgroup Designs, we design experiences that positively affect the way people live, creating memorable experiences with innovative and out-of-the-box design. We have a team that supports and encourages one another, making each day at WD a fun one! Our office culture, love of collaboration, and passion for our work is taking us places.
Great things happen when you love what you do!
Best Places to Work in Orange County is a survey competition that determines the best employers in the area. Managed by Best Companies Group (BCG) and published in the Orange County Business Journal, 2017.