Happy Halloween from Westgroup Designs. This year we present our annual Halloween video, ghostbusters themed!
In 1985, the International Union of Architects created World Architect Day to "remind the world of its responsibility for the future of the human habitat." Westgroup Designs is appreciative to have contributed that goal for over 30 years.
International Coastal Clean Up Day was this past Saturday and the Westgroup team showed up at Newport Beach to help the cause!
Dan is joining WD with over 20 years of experience in AEC, and business development. His research-based approach ensures that we have a deep contextual understanding of our clients and the projects we pursue, to ensure a solid foundation for success. He helps determine how to best answer the needs within our markets by working with leadership to align the right people and practices for each client's unique culture, challenges, and vision.
Westgroup Designs showed up and showed out at the annual IIDA Southern California Chapter's Fashion Show to great acclaim! Our team's selection was the adaptation of the musical Into The Woods (the dark version of Grimm's Fairy Tales), for this year's theme, Broadway on the Beach. Teams had one hour to grab fabric remnants from the available pile and incorporate design material samples into costumes to illustrate the theme! Check out Red and her alter ego, the Wolf, in our entry below! All leftover fabric from the event is turned into tote bags by volunteers, for foster youth, and presented to several local organizations.
---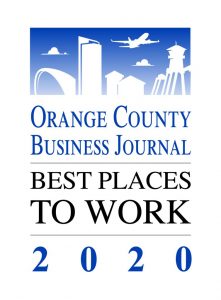 For the third time, Westgroup Designs is honored to be named as one of the top Best Places to Work in 2020 by the Orange County Business Journal.
Placing in the top 3 on the list, Westgroup Designs was selected for its quality of Leadership and Organization, Company Culture and Overall employee Trust and Satisfaction. Westgroup Designs dedicates this award to each and every one of its resourceful, collaborative employees who provides the value offered to our clients and project partners every day, who embody the firm's values with compassion and integrity, and who approach every day with a great attitude, team spirit, passion for design and enthusiasm for discovery.
This county-wide survey and awards program was designed to identify, recognize and honor the best places of employment in Orange County, California, benefiting the county's economy, its workforce and businesses. The ranking of the winning organizations was issued in a special section of the Orange County Business Journal's October 26th issue.
About Westgroup Designs Westgroup Designs (WD) is a comprehensive Architecture, Planning, Interior Design and Branding firm headquartered in Irvine, California, with both National and International clients and projects. Founded in 1989, WD is a woman-owned business that values excellence; certain that the best results come from a strong partnership with clients, and high-quality work is a culmination of attitude & approach, enthusiasm for discovery and passion for design. WD leverages design as a tool to help clients achieve organizational goals and strengthen business outcomes. The firm's expertise includes projects in Education, Commercial, Civic, Retail, Health & Wellness and Lifestyle sectors, from tenant improvement and renovation to new multi-story buildings and campuses.