At the height of the digital age, our educational institutions are eager to transform the way students learn and collaborate. Westgroup Designs is fervently committed to pushing the boundaries of educational space design, preparing our future generations for a world where the importance of mobility, flexibility and technology allow for greater growth and innovation. Harnessing $1.5M CTE Grant Funding, we pioneered an ambitious project for Santa Ana Unified School District's Saddleback High School, setting the stage for the future of media labs in K-12 schools.
The Saddleback High School Digital Media Lab is a model of forward-thinking maker space with an industrial aesthetic, transforming two existing classrooms into state-of-the-art production and collaboration spaces. These revamped spaces are acutely attuned to the needs of today's tech-savvy, mobile-oriented students, enabling them to delve into the nuances of media production technologies. Comprised of two Broadcast Studios, a Podcasting Studio, six Edit Stream Suites, two Stage Suites, and a tech equipment workroom, these facilities echo the real-world media production industry: offering students a hands-on learning experience while honing their skills for the future.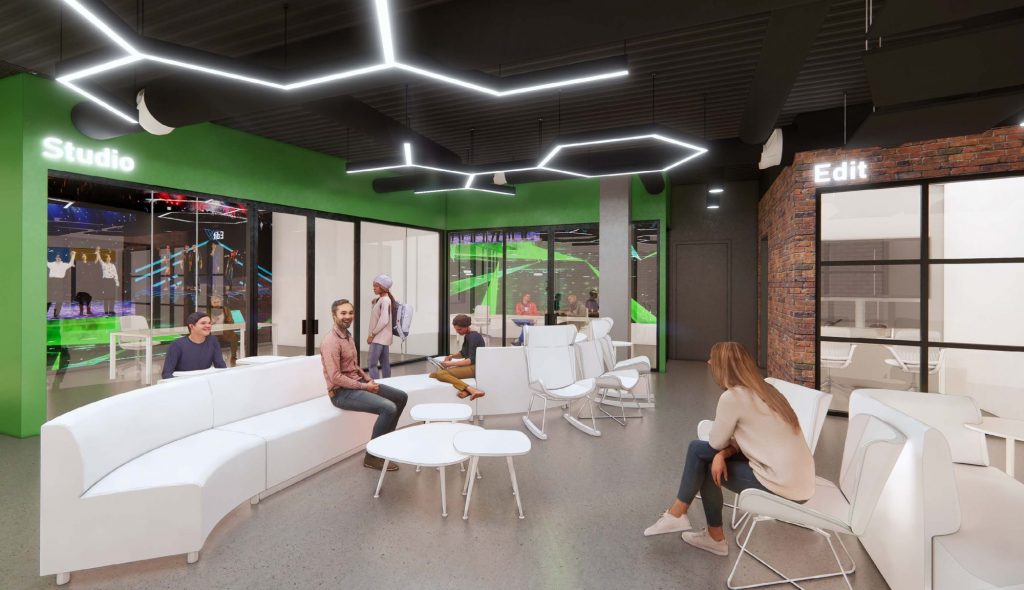 In addition to these specialized spaces, the project introduced a 2,600 square foot Collaboration Studio, equipped with flexible furnishings and movable partitions, that can accommodate multiple class configurations, fostering a conducive environment for idea exchange and creative thinking.
The Saddleback High School Digital Media Lab's success represents our broader vision for K-12 education design, where media labs will no longer be an auxiliary aspect of learning but a central, integrated part of the curriculum. We remain committed to the future of education, contributing to the creation of these inspiring spaces for learning and innovation and to be part of this transformative journey in educational environments.